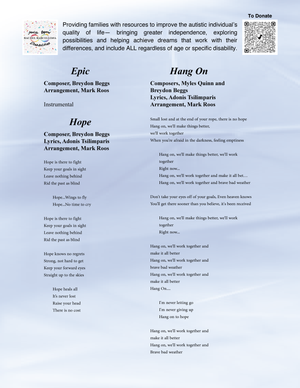 Testimonials
"Myles Quinn is not only a fantastic composer, his technical knowledge, perfect pitch and openness to learn and adapt will be a great addition to any university. More importantly, however, Myles' kindness and thoughtful consideration of others sets Myles apart from the crowd." Mark Roos, Media Composer
I'm writing to recommend the candidacy of Myles Quinn for study in music composition at New York University. I became acquainted with Myles and his work through his participation in the Ability Beyond Disabilities concert. He was a musical leader who effectively communicated his vision to the performers involved, and was a strong contributor to the event's success. He also showed his confidence as a performer on the keyboard and his ability to listen to the other musicians. 

As a composer and Columbia University music graduate, I recognize Myles' dedication to expanding his musical acumen. He has already spent many years working on piano and music theory, and has more recently become interested in collaborations and gaining MIDI production skills. I have no doubt that Myles would benefit greatly from a serious 
study of music, and that his presence would be a positive contribution for his classmates as well. 

Myles' music is melodic, reserved in the right places, and colorful in its arrangement. He is creative and ambitious in trying on new ensembles, genres, and styles. I hope Myles goes far in his pursuit of composition, and I wholeheartedly support him taking this step to further his education. 
Sincerely yours, 
Tareq Abuissa 
New York Administrator 
The Society of Composers & Lyricists